It is no secret that cities are home to more and more people, who are generally looking for work, as cities create over 80% of the world's GDP. According to UN's estimations, urban areas will house 60 per cent of people globally, and 1 in 3 people will live in cities with around half a million inhabitants. The UN predicts that number to reach 68% by 2050. The European Environment Agency (EEA) estimates that 75% of the European population already lives in urban areas as of now. In 2050, that figure will grow by 5%.
Such an increase in population will lead to greater energy consumption, and carbon emissions will skyrocket, leading to high air pollution. High population density is also linked to pollution, insufficient water availability, and waste-disposal problems.
Therefore, strong urban planning is necessary to anticipate the population growth and the higher demand for infrastructure and services. The strength of a city's planning, and its effectiveness is also tested during a crisis such as Covid 19, which showed the level of preparedness of cities in terms of public health.
There are several strategies to be more sustainable and resilient cities in the face of future challenges. Nevertheless, efforts towards reduction should focus on buildings and transports as those industries contribute most to greenhouse gas emissions.
Buildings
Europe's building stock causes over 36% of EU CO2 emissions and is responsible for around 40% of energy consumption. Europe has started making changes and has mandated that all buildings constructed from 2021 have zero energy demand or produce as much as they use.
Energy-efficient buildings are buildings that reduce energy consumption while providing the same services. 75% of buildings standing today will still be around in 2050. Sustainable renovation is necessary to make those buildings more energy efficient. The European Commission published in October 2020 its Renovation Wave Strategy aimed at and answer buildings' renovation around the EU. A key part of the European Green Deal is the Renovation Wave Strategy. It does not only seek to reduce greenhouse gas emissions but also create decent housing conditions for vulnerable groups. To achieve these goals, the European Commission wishes to operate an energy-efficient renovation of 35 million buildings by 2030.
Transport
The transport sector contributes to 27% of the EU's greenhouse gas emissions. Road transport accounts for the vast majority (72% in 2016) of these emissions. The transport sector holds a key role in the economy. As the largest consumer of petroleum, it also puts significant pressure on the environment. It contributes to climate change, noise, and air pollution especially in cities, which impacts our quality of life.
To meet the emission reduction challenge in the transport sector, Europe is shifting to low-emission mobility. In that regard, Brussels has imposed a ban on diesel vehicles in the region by 2030 and on petrol vehicles by 2035. Instead, the city is investing in its public transport offer and accessibility. This decision could decrease transportation-related CO2 emissions by 65% to 75% by 2030.
Cities can also promote alternative forms of transportation by creating infrastructure specifically for bikes and scooters. For instance, the Danish capital has built ring roads and bridges exclusively for bikes. Copenhagen has also decided to switch to electric buses to make its public buses carbon neutral by 2025.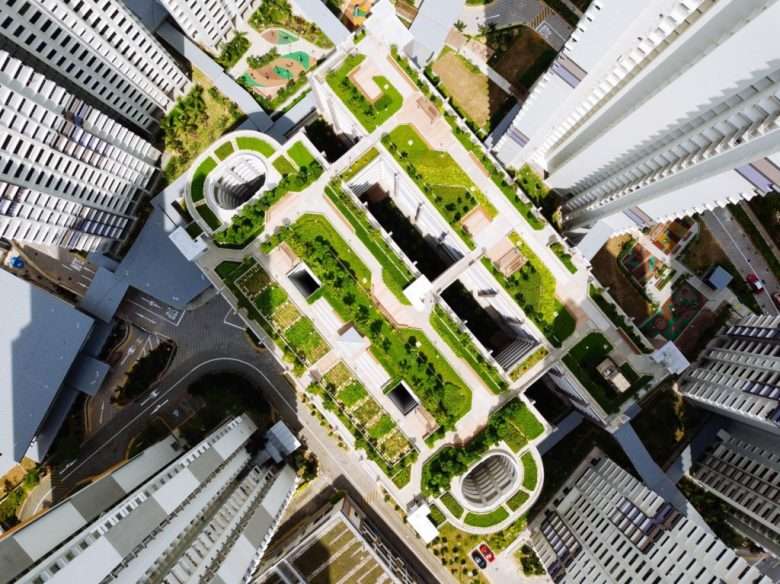 Greener Cities
Apart from promoting green building and low-emission mobility, how can we make cities more sustainable? By making them greener. Strategically planted trees will provide enough shade to reduce energy consumption for cooling systems and reduce energy use for heating systems by blocking cold winds. Green rooftops and walls make cities cooler by absorbing the heat from the sun. Additionally, implementing speed limits, making certain items of recycled material, using IoT tools such as smart streetlights will help drive down energy consumption.
Better Governance
Another way to create more sustainable cities is with better governance. According to the European Climate Foundation, the European Commission is to create legislative proposals that would include a Minimum Energy Performance Standards for existing buildings, leading to energy efficiency and environmental sustainability. This would constitute a roadmap towards sustainable energy practices in buildings, which would help determine the best course of action.
To create global change, countries must work with each other on measures they all can take since individual decisions have a lasting global impact when it comes to climate change. Emphasizing the importance of collaborating to build more resilient cities, the 193 Member States of the United Nations have included among their 17 Sustainable Development Goals, the 11th goal on inclusivity, safety, resiliency, and sustainability of cities.
Shayp can help cities become more sustainable. Shayp has developed an energy management tool that combines innovation, simplicity, and ecology. Shayp's technology evaluates instantly the risks and costs of water leaks and ranks the buildings with the most leaks and the highest risk.
Would you like to reduce water usage and improve the environmental impact of your organizations? Contact the experts at Shayp!