POLY4™ is a wireless water meter reading system with a long-range, battery-powered datalogger compatible with all pulse-ready meters, specifically designed to withstand water immersion and harsh conditions as to ensure an ideal performance, even in deep underground locations. It is suitable for water meters in deep basements or manholes, remote fountains, irrigation systems, network water meters, gas meters, electricity meters, and more.
Easy installation
Installation is easy thanks to on-site verification with Shayp's Mobile webapp
Reasonable cost
POLY4™ guarantees the ultimate balance between cost and the most advanced technology on the market
Long battery life
Battery life exceeds 10 years thanks to its high capacity and ultra low power setup
Public API
POLY4™ comes with a public API so you can transfer the data to any third party service
Impact
Having a measurable and sustainable impact as a company.
User-friendly connected dashboard
With a simple-to-read dashboard, you benefit from deep insights into your water consumption on an hourly basis. Thanks to our wireless water meter reading system, we ensure users are warned if leaks or anomalies are detected in their water consumption. Because of this this connected device, you can prioritize your maintenance. On top of that, and most importantly, our sophisticated yet comprehensible software provides property owners with a peace of mind and profound insights into their water utility.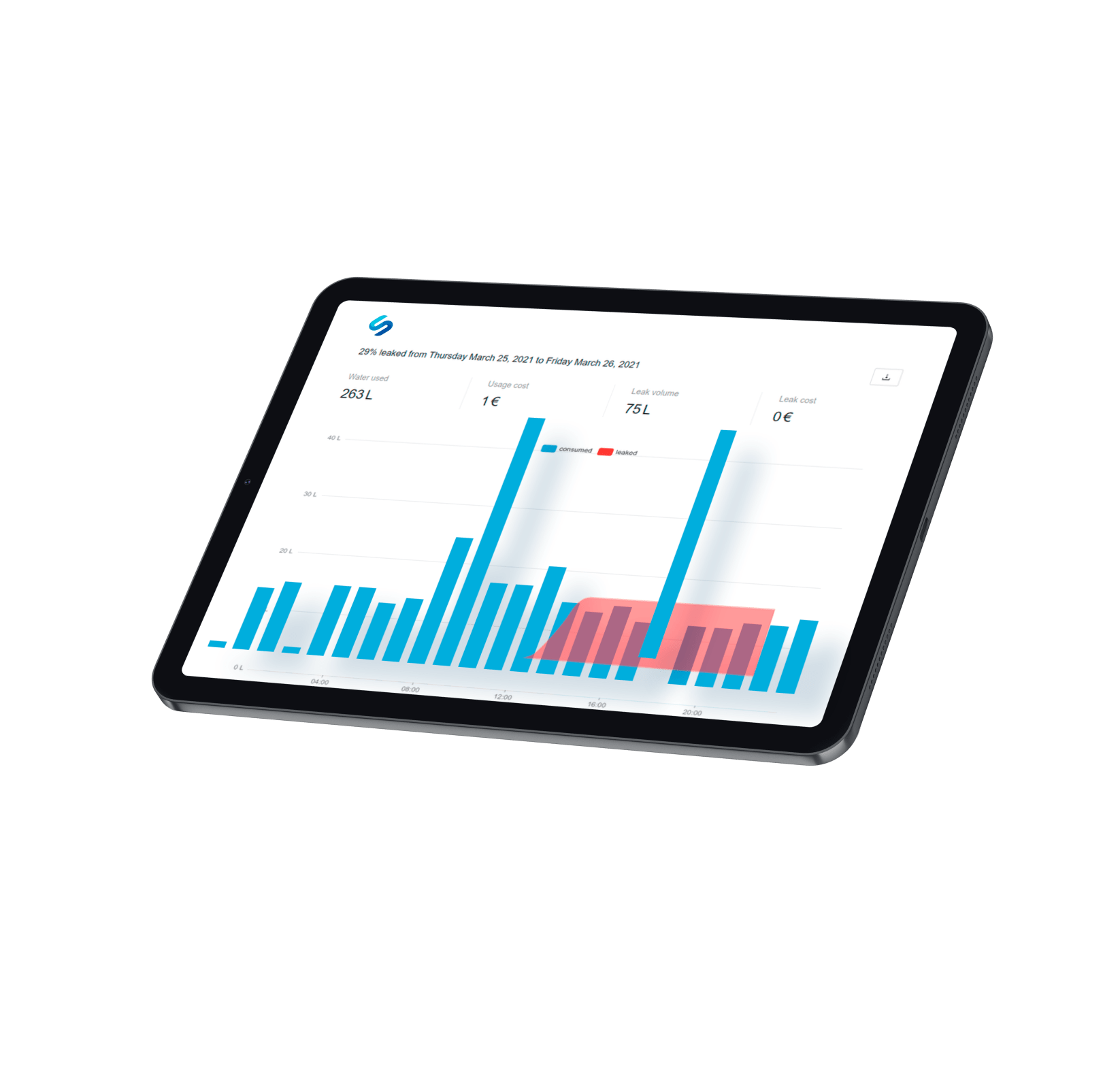 Shayp provides you with a wireless water meter reading system that only takes a few minutes to connect to the existing water meter. Then the high-performance external antenna transmits messages flawlessly on an hourly basis providing minute precision granularity. With the help of machine learning, any abnormal continuous flow of water is reliably flagged as a leak. Once detected you'll be notified immediately. Watch this video to learn more.
How long does the router battery last?
Our battery is designed to last 10 years. You should receive an end to life notification in order to plan ahead its replacement. If you subscribed to Shayp, send us back your device and we will replace it. You will get a discount. If you paid at once, you will have to buy a new device. You will also get a discount. Our router will be 100% recycled. To learn more about our wireless water meter reading system, please visit the hardware page.
Is the router water resistant?
Yes our router is IP67 waterproof and dust resistant but it's not intended to be submerged in water. To learn more about our device, please visit the hardware page.
Can the router survive in hard water conditions?
Yes, the router has been designed to withstand harsh weather and humid conditions.
What happens if the power goes out?
All good, the Shayp wireless water meter reading system works on a battery and does not use wifi, but rather a stand-alone connection. So even without power, the service will go on.
The wireless water meter reading system is under guarantee for as long as you are subscribed to our software service.
Is it possible to get a certification once your buildings are made water efficient thanks to Shayp?
Yes! Shayp can provide you with a certification to prove that your buildings are water efficient. Shayp can also help building managers to obtain environmental certifications such as BREEAM for instance. Check our blog to have more info about certificates.
Can I reuse my Shayp device if I move?
Yes. If you need to use your Shayp device for another building you will need to reconnect your router using the app. Please remember to email support@shayp.com to let us know you have moved so we can update your details.
Low setup costs and proven return on investment
Shayp identifies and prioritizes buildings that need maintenance and also tallies your water bills for you. This allows technicians to assess the condition of plumbing systems, enabling them to prioritize the most important tasks.
Our clients trust us