Imagine putting a cap on excessive water usage in your buildings to ensure a sustainable environmental footprint.
What would that mean for your business?
It starts with monitoring and understanding the water consumption in your buildings. This enables you to detect and prevent excessive use, stopping your water bills from increasing without you noticing. Essentially, it helps you to preserve water, one of the Earth's most precious resources. No more wasting water, only using and paying for what you really need.
At Shayp, we decided not only to perfect such a tool but to turn it into a guarantee to you and our planet.
We are excited to introduce the world's first embedded water insurance for buildings.
Keep reading to learn more.
Embedded insurance for leaks?
Let us start by understanding what embedded insurance is.
Put simply, embedded insurance is an insurance policy that can be purchased together with a product or service. Though not a new idea, it has been taking off in recent years. Today, we can see examples everywhere. They range from travel insurance while booking a ticket to protection against theft or damage when buying a new device.
Now, you might wonder what this has to do with buildings and water efficiency.
When it comes to typical water insurance for buildings, we have noticed an important blind spot.
While typical building insurance covers water damage, the price of water leakages is usually not included. Yet, leaks increase the occurrence of water damage. Moreover, they lead to wasting water, compromising this valuable resource. Eventually, it all reflects on your growing water bills.
In most cases, the increase in water consumption in buildings happens due to undetected leaks and not the increase in actual use. Our data across 5 000 buildings show that one in three buildings is leaking every year. These leakages account for over 20% of water consumption on average. For example, the City of Brussels was losing 40% of its water consumption due to underreported or undetected leaky toilets, faulty pipes, HVAC systems, or even burst pipes.
Using connected water meter data, Shayp reveals water use anomalies in-real time and assists operators in addressing the situation efficiently. Thanks to AI, we have already helped cities, hospitals, universities, large retailers, and others to detect and solve leaks efficiently. As a result, they have improved their water efficiency by 30% on average.
Now, we decided to insure these businesses against future undetected leaks.
Environmental impact guaranteed
Most technology and services today will promise a benefit but will not be held accountable if that benefit is not reached. For example, we won't accuse a smoke detector of fire damage or a car manufacturer if we miss an appointment because our car broke down. The warranty might cover the device's functionality but does not guarantee the benefit. With Shayp, we took both as our responsibility.
As Alexandre McCormack, Shayp's CEO & Co-Founder, says:
"At Shayp, our goal is to ensure the highest standard on water leak detection in buildings as possible. We guarantee both the effectiveness of our technology as well as the results. The insurance now embedded in our product means businesses never have to worry about undetected leaks or excessive water use again. We offer water efficiency as a service."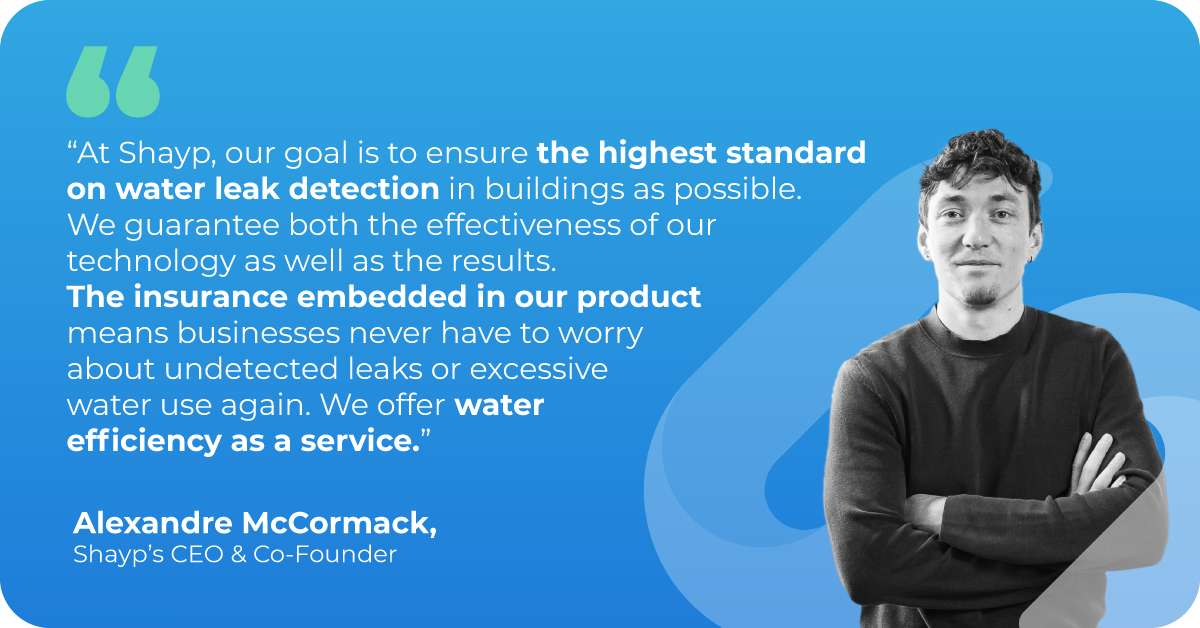 The insurance is also a continuation of Shayp's sustainable philosophy. It is the first insurance policy that focuses on the preventive use of resources by preventing excessive water use and loss. In other words, it is our promise that buildings equipped with Shayp will remain environmentally friendly.
Finally, here is how the insurance works.
How Shayp's insurance works
The embedded water leak insurance is an easy and affordable way to protect your business from excessive water use.
We have partnered with the experts in the field, Bsurance and Baloise, to provide Embedded Insurance. Starting this autumn, the insurance will be available to businesses that decide to equip 100% of their buildings with Shayp devices. In case a device fails to report a leak, insurance covers any excess water bill that may occur as a result. There is no need for additional paperwork or a high budget.
Below is a quick overview of Shayp's insurance:
Who is eligible for Shayp's insurance?
Businesses covering 100% of their buildings with Shayp devices.
When will it be available?
From autumn 2022.
How to get it?
It will be automatically offered to you if eligible. All it will take is a click of a button.
What is covered?
The excess water bills that are a direct result of leaks not detected by Shayp devices.
What is not covered?
Leaks that occurred prior to installing Shayp devices, existing leaks, leaks occurring in buildings with no Shayp devices, and reported leaks that were not solved.
Would you like to learn more about Embedded Water Leak Insurance and how it applies to your business?