As of now, Shayp users can benefit from new functionalities in their application to help them optimise the management of their water consumption. These include the ability to generate monthly reports analysing the evolution of their consumption and highlighting the cost of leaks on their water bill. These reports also show the breakdown of flows by building and producing graphs that compare their consumption with that of previous months. Our users will find a breakdown of the leaks over the month, and a ranking of the leaks in order of importance to indicate to the maintenance team where to focus their attention. Our team of data scientists is constantly on the lookout for feedback from our users and these reports are designed to evolve to meet the needs of our users.
Reports to help you communicate and manage
These reports will serve a dual purpose. As a management tool, supervisors will have the opportunity to decide on an action plan based on the conclusions of the report, but also to determine whether or not the plan is effective. In addition, these reports will allow the team, on the one hand, and the organisation, on the other hand, to communicate on the ongoing efforts made to reduce the costs related to water leakage but also on the organisation's water footprint. In other words, this tool will allow our users to concretely show how they are taking action to reduce their water consumption. Shayp is committed to helping companies meet ESG criteria. If you would like to know more about our commitments, you can visit this dedicated page.
The second new feature that users will benefit from is the update of our leak detection algorithm. The ongoing improvement of this algorithm is one of our objectives; from now on, the results will be even more reliable and the detection of the volume of leaks more accurate. For more information about our software and algorithms, please visit this page.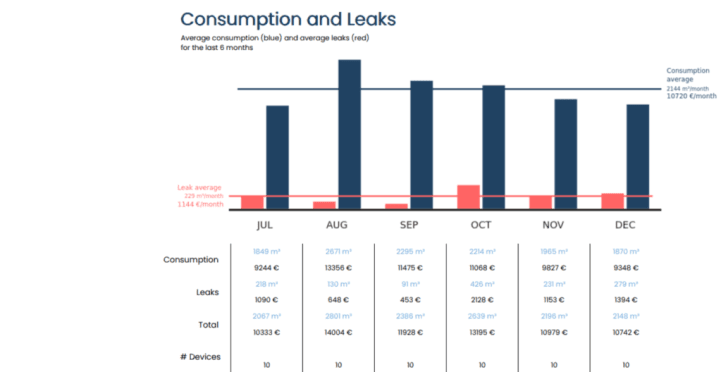 And many more new functionalities on your app
These new features are in line with Shayp's guiding principle: to make the application even simpler to use whilst addressing the concerns of its users in a comprehensive manner. Other new features include thus the possibility of extracting water consumption data from a csv file, and monitoring its daily, monthly and annual index with an estimate of the amount of the water bill. It is also now possible for our users to add photos (of their water meters, of water damage) and to geolocate their Shayp connected devices. The objective is to ensure that this dashboard can respond to the problems of maintenance teams, both in their overall management of water flows and in their day-to-day operations.
If you would like to learn more about all of the new features of our application, we invite you to book a demo here with one of our specialists.