Renewing its iT fleet by paying particular attention to the carbon footprint of the materials and services used, a challenge for the iT manager? An opportunity! Shayp has chosen to equip itself with refurbished computers for its employees. An approach in line with our company's values for a greener planet. Workshop-meeting with Alexis Valero, co-founder and CEO of rzilient.
Your approach is based on the observation that a company's IT equipment process has a considerable environmental impact. You mention the carbon footprint. What exactly is it?
Alexis: Scientists estimate that digital technology is responsible for 4% of greenhouse gas emissions. This pollution is due, among other things, to the increased consumption of electronic devices because, in addition to their use, the carbon impact is mainly due to their production. Digital technology plays a major role in the current ecological crisis. Connected devices are major consumers of resources and energy. Recycling and reconditioning them has therefore become a necessity. With rzilient, we provide a simple and sustainable solution for IT managers, who manage a company's IT assets. The carbon footprint of an iT park can be rigorously reduced thanks to a process of simplification in its management and the use of reconditioned equipment, in a sustainable and ecological approach.
Is your core target group mainly iT managers?
Alexis: We address CEOs, CFOs, HR managers and iT managers who want to make their digital world more responsible. We have found that managing iT products and services within a company is a long, complex and expensive process. This is all the more relevant today with teleworking on the rise.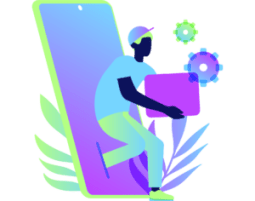 Environmental resilience in the face of an impacting technology. What is your offer?
Alexis: Our offer includes all the iT products that professionals need: computers, workstations, accessories and software. While being as efficient as new, they are 30 to 40% cheaper. We hyper-select our suppliers and pay great attention to each step of the hardware upgrade circuit and to lightening its lifespan over time. We offer both rental and sale, depending on the type of product and ease of payment.
Around 40 customers in only 4 months of existence! What new features can we expect?
Alexis: In this logic of simplification to which we aspire, we are working on an iT fleet management platform that is already in beta version. Monitoring the iT fleet, optimising the lifespan of IT equipment and the value chain: the functionalities of our collaborative platform are numerous and aim to facilitate the processes of equipping companies with iT equipment and services. We offer solutions that can be quickly activated to make IT management more fluid and responsible.
What can we wish you for your achievements in 2021?
Alexis: Our team is committed to increasing awareness of the impact of digital technology and to offering eco-responsible solutions to our clients and partners. Knowledge about the impact of digital technology is not widely known, but it is not too late to raise awareness of this market and integrate services that can respond to tomorrow's problems. Our wish is to limit the renewal of digital materials in companies, so that they are part of a "tech for good" oriented logic. We are currently focusing on medium-sized companies in France, Belgium, Spain and Italy.
Finally, what results can you share so far?
Alexis: We estimate that we have succeeded in saving our clients 50,000 kg of carbon. That's a great victory!
---
Shayp's commitments
In January 2020, Shayp was awarded the Solar Impulse Efficient Solution Label for its innovative technology for analysing water consumption and detecting water leaks in real time. Shayp's solution was judged to be both cost-effective and environmentally friendly.
Read more about our commitment to the planet at https://www.shayp.com/fr/about/
About rzilient and its CEO, Alexis Valero.
https://www.rzilient.club
https://www.linkedin.com/in/valeroalexis/